MEMBERSHIP CARDS & ID PRODUCTS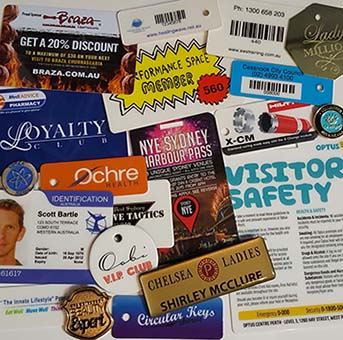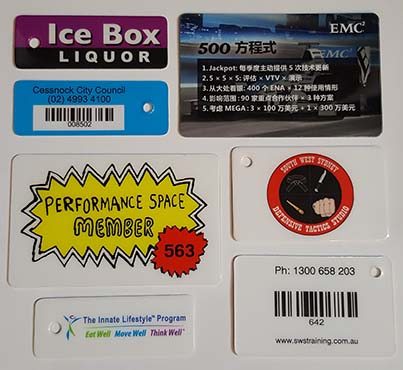 Membership Cards and Key Tags
Our membership and loyalty cards are made from durable PVC or Teslin and are finished with a clear coating. Our heavy-duty key tags have a unique durable non-snap core, which prevents them from cracking through. These are manufactured to the same thickness as a credit card. In addition, we supply a second type of plastic key tag out of thinner PVC finished with a clip and key ring. All of these cards and tags can be custom printed on both sides and can include numbering, barcoding, names and photos of staff.
Identity Products
We supply a number of products that are used for identification purposes, either for staff, club membership, security purposes or to identify personal items. These products include staff name badges, membership cards, loyalty cards, key tags, luggage tags, lapel pins and security badges
Name Badges
Our staff name badges can be supplied in a number of standard sizes or custom cut to a required shape. They can be engraved or printed in full colour and can include metallic colours. The badges can be finished with a tough resin coating, providing a 3D look. Where there is a high turnover of staff or staff is regularly changing positions in the organization, we can supply reusable nametags, with a window for sliding in a change of name. Name badges are supplied with a pin, pin and clip or a magnetic fitting.
Lapel Pins
Lapel pins are an excellent tool for promoting your brand and your company. These can be custom designed and used as a commemorative gift or launch of a new product. Both customers and employees will take great pride in wearing them. Lapel pins can be dye struck, embossed, debossed photo etched or printed, and with a number of different finishes including gold, silver, brass, enamel or colour. We can also tailor make them to fit any required shape.