METAL & INDUSTRIAL LABELS & TAGS
Our industrial labels and tags are manufactured out of materials that are more durable and longer lasting than your standard label stocks. They are often used on machinery where specific information is required to be clearly legible at all times. This would include company branding as well as safety and rating information. Generally these materials are metal, hardened plastics, synthetics or polyester stocks.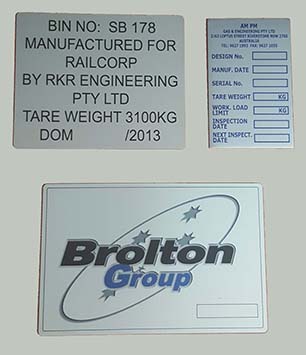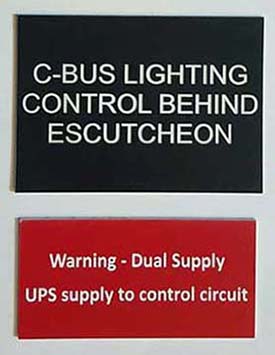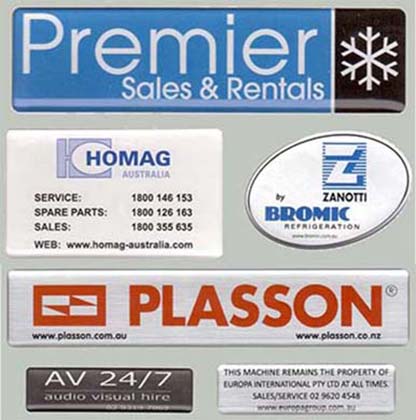 Aluminium & Stainless Steel Plates & Labels
Our metal labels and plates are most commonly manufactured in anodized aluminium, stainless steel or brass. We supply these with holes for rivets or screws, or with industrial strength adhesive backing. These can be finished in spot colours or in full colour, either by screen-printing, digital printing, etching and paint filling, engraving or laser printing. Printing can include variable data and barcodes. Our metal products are available in a variety of gauges from 0.2mm up to 5.0mm, depending on the application for which they are required. Labels can be die punched, guillotined or laser cut to a specific shape. All sharp edges are deburred to finish.
Our aluminium is anodized, which protects the inks and prevents erosion and abrasion. Our 0.2mm anodized aluminium is most often used for service maintenance recording, where the month and year of service is punched or indented into the aluminium. We further print on aluminium foil, which can also be used as a service label. These are self-debossing and leave an indented impression when written on with a pen. We supply our stainless steel plates and labels in either Standard Grade 304 or Marine Grade 316 steel, depending on the intended usage. We have no minimum quantity requirements for our metal labels and plates.
Plastic and PVC Labels and Tags
We use heavy-duty materials for our plastic industrial labels and tags and depending on the intended use, can be printed on PVC, vinyl, polyester, polypropylene, polyethylene, acrylic or traffolyte materials. Common uses include machinery tags, electrical signage and product labeling. Window cleaners and roof maintenance companies use our flexible PVC tags for their anchor points. Our plastic industrial labels are more durable than conventional labels and are generally resistant to weather, chemicals and extreme temperatures. Labels and tags can be supplied with holes or with industrial strength adhesive backing. These can be printed in spot colours or in full colour, either by screen-printing or digital printing. Printing can include variable data and barcodes. We laser engrave our traffolyte labels and supply a wide range of colour combinations. Labels and tags can be die cut, laser cut or square trimmed to any required shape. We further supply other products using various plastics and synthetic materials, including key tags, plastic cards, door hangers, car window hangers, luggage tags, shelf wobblers, flexi rulers and hand flags. These items are covered in more detail on our "Membership Cards & ID Products" and "Signs & Displays" pages.
Resin Lensed Labels
Resin lensed labels or badges (often referred to as dome labels) are the perfect label for product and corporate branding and advertising. The clear resin coating creates an impressive 3D effect and gives depth of colour to the printed image. The durability of the resin means that the labels can be used both indoor and outdoor. These labels are weatherproof as well as scratch and chemical resistant. They can be created with any colour background including silver and gold. We can custom make these to any shape required. Resin labels are commonly used to brand white goods, computers, outdoor furniture, industrial equipment and automotive accessories.