PRODUCT & PROMOTIONAL LABELS
The best way to promote a company or a product is by means of a specially designed label or decal that provides detailed information.
These labels or decals include coupon or booklet labels, product neck tags, window and floor decals, fridge or freezer labels, as well as scratch/reveal labels.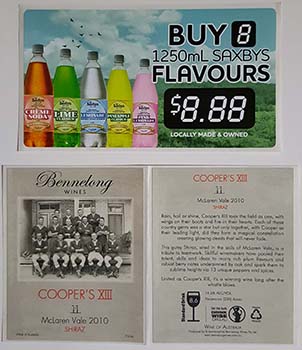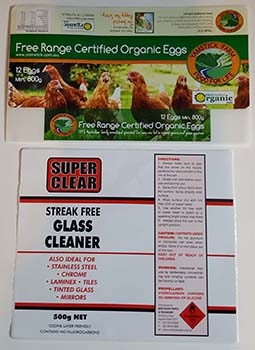 Coupon & Competition Labels
Coupon labels, competition labels, product neck labels and scratch/reveal labels, often incorporate a competition relating to the specific product. Labels may contain unique coding, secret numbering or passwords. Product usage instructions, hints and tips, recipes, application forms and other useful information is incorporated into the design of these labels. Neck labels maximize your products identity and presence on the shelf. These can be manufactured from cardboard or synthetic materials and are cut to shape to fit on the neck of the product.
Window Decals
Window decals are often stuck on the inside of shop windows facing outwards and promote the company or its products. These can be printed single or double sided. It has become very popular to print a QR code onto these decals so that passersby can merely scan the code with their smartphone or tablet and this will take them directly into the company's website. Floor decals are an extremely effective way of promoting your product or brand at the point of sale. These are immediately visible on the floor of a store or in an aisle of a supermarket and can have an instant effect on the positive promotion of your product. Our floor decals are laminated with an approved non-slip material to meet relevant O.H. & S. requirements. Floor decals are easily removed without leaving a residue.
Product Labels
We supply labels for any type of product to meet your exact specifications. Labels can be printed on paper, vinyl, polyester, polypropylene, polyethylene, polyolefin and PVC materials. These can be made for indoor or outdoor use and are constructed to withstand harsh conditions and extreme temperatures. Adhesives can be permanent, removable, repositionable, ultra removable, high tack and ultra aggressive. Labels can also be supplied on opaque or blockout stocks. We supply our labels on stocks suited to that product or industry e.g. specialized wine papers. We also offer many different finishes including foil, spot varnish, embossing and high build varnish. We supply labels for wine, beer, bottled water, fruit juice, jam, honey, olive oil, coffee, tea, meat, egg cartons, cosmetics, hair care, gift hampers, tiles, carpets, white goods and much, much more.
Electrostatic & Removable Labels
If it is imperative that no residue is left behind on a product when the label is removed. Paper and synthetic stocks with a removable adhesion, electrostatic vinyl or ultra removable vinyl, are the recommended materials to use. We are now also using a product called Yupo Octopus, which is fast becoming an extremely popular alternative to traditional adhesives. The beauty of this product is that it adheres to any smooth surface including walls, wooden products, plastics and metals and is unlike electrostatic vinyl, which only adheres to glass and certain metals by means of static electricity. Yupo Octopus is a synthetic stock that adheres by means of micro-suction technology and, if kept clean, can be reused over and over again without going out of shape. Electrostatic and removable stocks, as well as Yupo Octopus, are generally used on supermarket and convenience store fridges/freezers, white goods, TV's, computer monitors, sunglasses and spectacles, as well as by car dealerships for vehicle advertising.