SIGNS & DISPLAYS
Our signs can be screen printed or digitally printed in full colour to your specifications. These signs are printed with UV inks and can be used both indoors and outdoors. Our signs can also be printed on corflute, foam PVC, screenboard and signbond materials and have been used by real estate agents, security companies, construction sites and many other industries.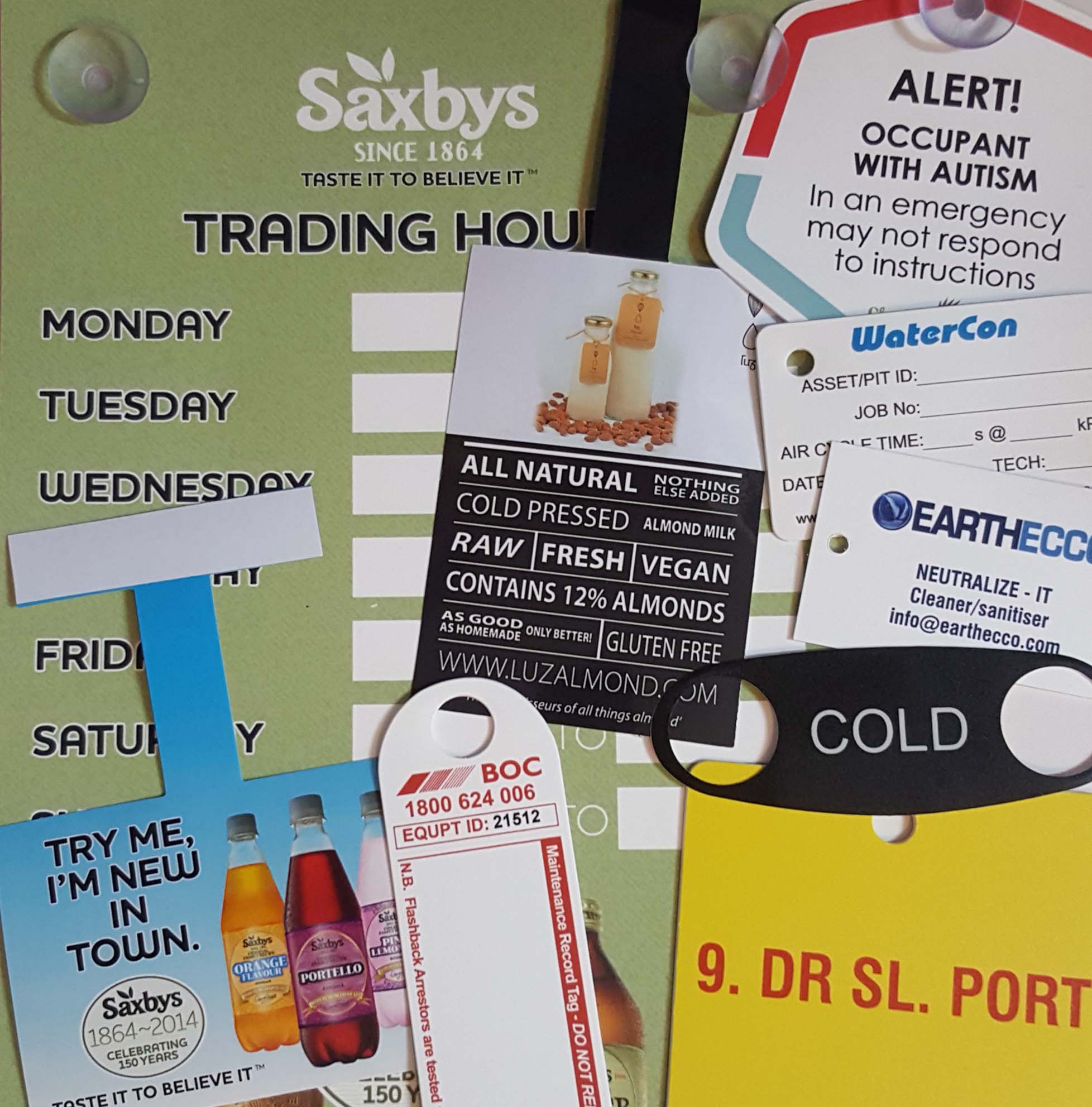 Door and Car Window Hangers
Our door hangers and car window hangers are printed on a thick polypropylene material. The car window hangers are supplied with a suction cup for applying to the windscreen.
We have a number of existing door hanger shapes, both with different size holes for the doorknob as well as "coat hanger" style shapes. If you have a specific style or shape in mind, we can manufacture these to your exact requirements.
Wobblers
Our shelf wobblers are manufactured using a flexible and durable polyester material. We carry a number of existing shapes and sizes for our wobblers and, as with the door hangers, can also manufacture to your exact specifications. In addition, we also offer cheaper alternatives to polypropylene and polyester, and our door hangers and shelf wobblers can be manufactured using art board stock. Like shelf wobblers, counter cards are an effective form of advertising your product at the point of sale. Our counter cards are printed on screenboard with a fold out strut attached.
Flags and Flexi-Rulers
We further supply hand flags made out of a thin plastic recycled material and adhered to a PVC stick, as well as flexi rulers, which are made from an eco-friendly polypropylene. Rulers can be printed with custom graduations & scales. Both of these items are great for company advertising as well as promoting of new products.